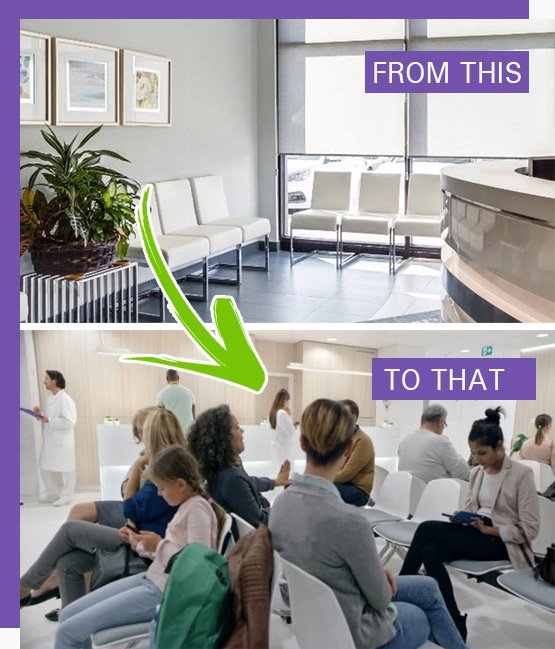 The Ultimate Dental Marketing Package To Help You Grow Your Practice From 200%-400%
We are experts in dental marketing and we have put together a bundle of the most effective and proven marketing strategies that other dental practices just like yours are using right now to grow their dental practice from 200%-400%.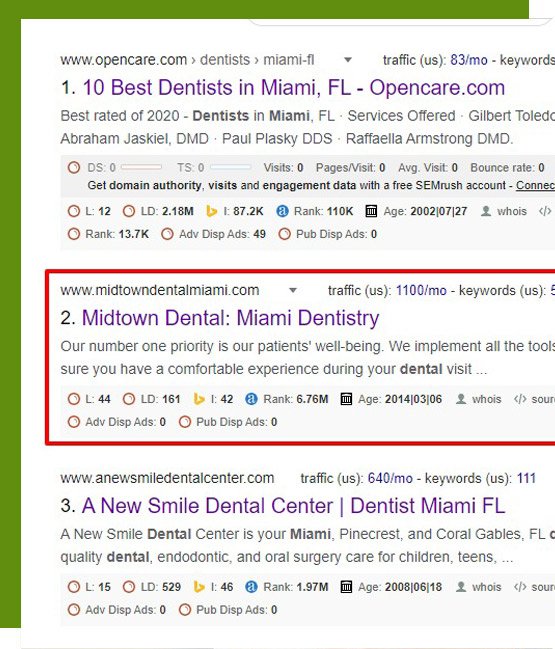 Hyper Targeted Leads with Our Proven SEO strategies
What good to have a website if nobody can find it?
With our groundbreaking technology and 16-years of hands-on SEO experience, we are offering our unique Pay Per Result SEO service. If you want to get your website on the first page of Google, this service is for you.
Pay per performance
This means we work towards ranking your business, for the keywords you choose. We believe in our services so much that for a limited time only we will only charge the usual setup fee and HALF of the monthly fee until your website ranks on the first page of Google.
We are a less-talk and more-action team with the aim of helping our clients grow their businesses and boost their profit.
The Most Effective
Lead Generation Service for Dentists
We craft an irresistible offer that your potential patient will not be able to resist.  We already know what is working for your industry.  We have been doing this for 100's of dental offices all over the country.
We take the guesswork out of the way and we show you the best performing offers.  Then we work together to make it fit perfectly for your practice and there you go.
Prepare yourself to get new patients for your dental practice on demand.  Some of our clients even had to stop the campaign because they could not handle the flow of new patients.  Now that's a good problem to have!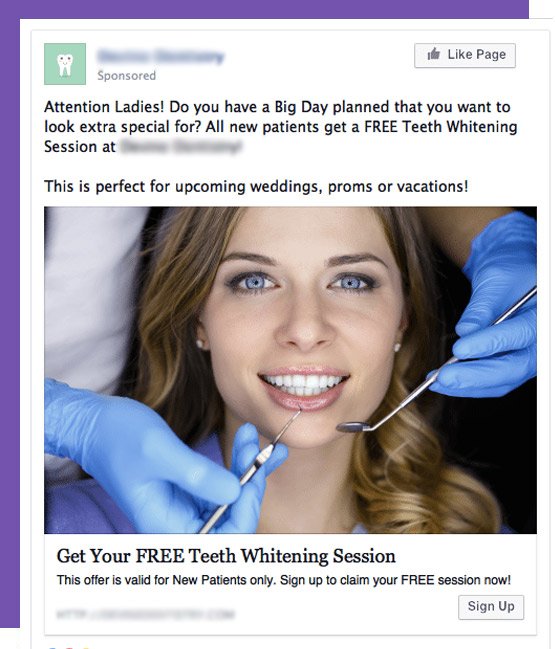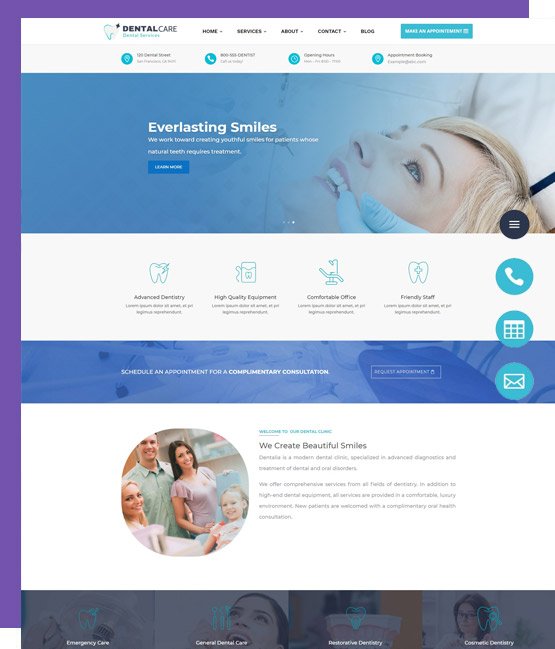 Our Best Converting Award winnig
Website for Dentists
What good to have a website if when every visitors leave the website because of the poor design, slow speed, or because it doesn't look professional/trustworthy?
The purpose of a website is to turn your visitors into new customers.  You are spending money on marketing to send traffic to your website so you can't afford to have a poorly designed website.  This is a complete waste of money.
This website is specifically designed for dental offices and will convert every single visitor into customers.  It was designed with the highest converting techniques, there are multiple ways to contact you, call to action on every single page.
What you get :
Award-winning designed website
Floating contact widgets on desktop / tablet / mobile
SEO optimized structure
Fast loading website
Professional images included
Live Chat system (optional)
We match your logo and brand colors
User-friendly and easy to use
Put your Practice on Autopilot With our Custom AI Dental ChatBot
The popularity of conversational marketing is on the rise, and the time to get started is right now.
Technology is created to make our lives easier and chatbots are no exception. If you haven't heard of them yet, chatbots are computer programs that can create online conversations powered by artificial intelligence. Instead of training an employee, you can program your software to perform frequently occurring tasks ( appointment bookings, information regarding procedures) Chatbots are simply THE way of communicating with your patients nowadays.
Chatbots are an innovative way to automate frequently occurring processes in your practice: such as providing information on procedures, price lists, appointment scheduling, and reminders. This allows you to free up your staff for more important tasks, improving your practice's productivity as well as increasing employee satisfaction.
 Chatbot benefits for your dental practice
Put your Practice on Autopilot
Save Money & Increase Productivity
Provide value to your patients
Increase the Lifetime Value from each patient
Provide real-time information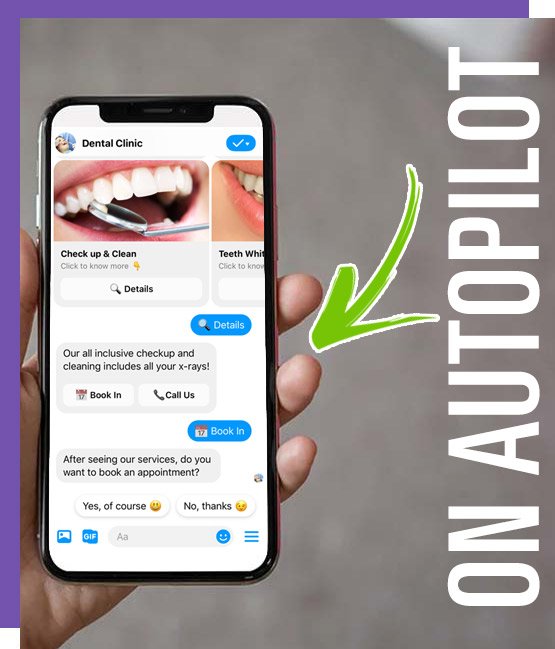 Done for You Highly Engaging Branded Social Media Content
and Management
Social media marketing is the ultimate way to build relationships with your audience. For a dentist, that means convincing your patients that you can deliver a pain-free experience.
Use social media to help patients feel more comfortable before they even visit your office. Showcase your authority, track record, and industry experience by letting clients know they're in safe hands.
Remove some of the stigma around going to the dentist through fun and light-hearted social content. By giving your practice an interesting personality, you ensure that people look forward to seeing you. Again, it's all about trust.
That being said, most dentists do not have time to take care of finding good content to engage with their audience and even less time to post it on a regular basis.
That where we come into play.  We will create highly engaging branded content to post on your social media accounts and post them for you so you can focus on providing the top-quality service your dental practice is known for.
Boost Your Sales with Custom Videos for Your Dental Practice
Videos have become one of the most powerful and effective tools in the world of online marketing. We offer powerful, yet affordable, video marketing packages with the following features and benefits:
• Custom video(s) produced for your dental practice
• Video production team comes to your practice to shoot video footage
• Typical video lengths: 60 sec, 90 sec, 120 sec
• Videos can provide a practice overview, interview dentist(s), staff, patient testimonials, etc
• Videos are great for online marketing / new patient generation and can be utilized on your website, YouTube, Vimeo, Facebook, your practice eNewsletter, etc
 Type of videos that we create:
Corporate videos
Spokesperson videos
Whiteboard videos
Animated Explainer videos 
The impact of online videos:
• Visitors who view product videos are 85% more likely to buy than visitors who do not.
• Both Google and MSN have reported that video marketing can increase website sales by up to 73%.
• Nearly 40% of consumers report that videos increase their likelihood of making a purchase on a mobile device.
Advanced Appointment Booking System
Having a reliable appointment booking system is a must for all dental clinics.  However, some dental practices are still using outdated and limited appointment booking technologies.  As a result, it increases significantly the workload and reduces productivity.
Get the most advanced booking system for your dental practice to make sure your patients do not miss scheduled appointments. It will increase your productivity while reducing the workload of your staff.
Take advantage of full scheduling flexibility with the custom services schedule feature – configure the working hours and breaks individually per service and employee combinations.
What you get :
We set everything up for you
Advanced E-mail and SMS notifications support
Flexible schedule configuration – custom special days and vacations per each employee
Flexible pricing – custom price per employee or service
Unlimited configurable custom fields per each service booking
Professional images included
2-way Google Calendar synchronization for each employee
We match your logo and brand colors
User-friendly and easy to use
Increase your Website Conversion With our Branded eBook and Email Marketing
Every dentist we've worked with has generated a significant amount of their patient base from their website, yet they all have gaps on their sites that allow potential patients to slip through the cracks.
According to DentistryIQ, the highest converting dental websites hover around the 5 percent mark; that leaves at least 95 percent of your visitors that don't end up calling you. If you're a dentist, "How to capture the 95 percent?" is your million dollar question.
One of our most effective tools to capture a piece of that 95 percent is our professionally designed eBook with your brand.  This lead magnet offers a relevant piece of content on your website of value for free in exchange for the person's contact information.
The next step is to use marketing automation with our DONE FOR YOU email sequence to follow up with this prospect until they become a patient.
The best part is that everything is automated so once it is set up, all you have to do is to sit back and watch new patients coming in on autopilot.
Build your list of hot leads and you'll be able to send offers to them on a regular basis.  Email marketing is an extremely pwoerful marketing tool for your dental practice.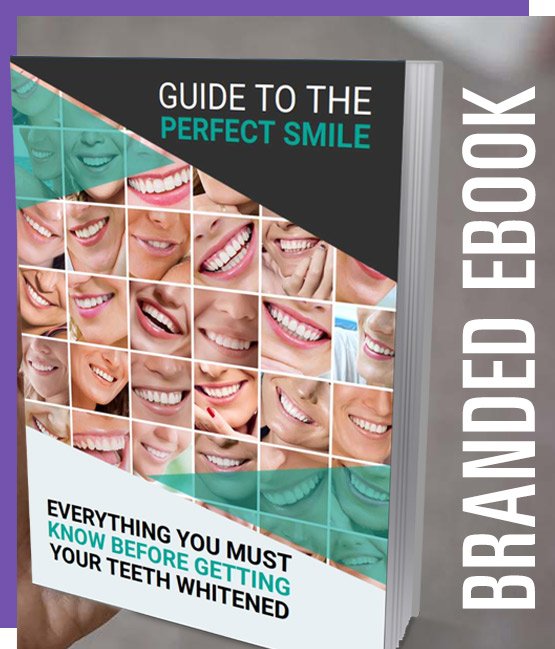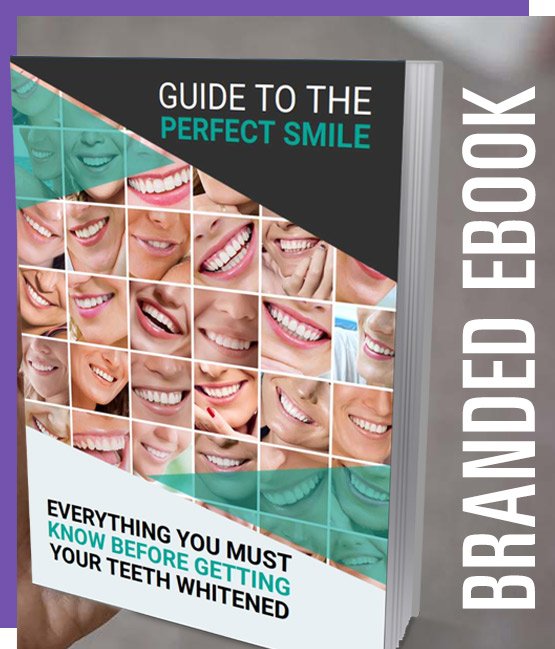 Build Trust and Authority With Professional Dental Graphic Design
Separate yourself from the crowd and build trust and authority for your dental practice with professionally designed graphics for your social media marketing and website.
Earn the 
trust
 of the potential patients with our:
Professional logo design

Highly converting Social Media Covers (Facebook, LinkedIn, Twitter, YouTube)

Banners and graphics for your website
Promotions for all your social media sites, special events, holidays, etc.

Social media images for your daily posting

Business cards/appointment reminder cards

Flyers for your offline marketing
Get More Visibility With Our Dedicated Dental Directory
Get more visibility for your dental practice
We have a dedicated dental clinic directory that allows you to get more visibility online for your dental clinic.
Possibility to get featured as the best dentist in town and increase your authority and trust from your potential patients.  
Do we have to take all the package?
Absolutely not! You can take the service you currently need and come back later for more!
Do you offer discount if we take more than 1 service?
Yes, of course.  If you are interested in more than one of our marketing strategies, we will give you an extra discount for each service that you add to your marketing package.
Our experts are waiting to hear from you.

Your dedicated marketing expert will collaborate with you or your team to put the best marketing strategy to help your dental practice grow.
Fill out the form below to let us know which marketing strategies you need us to implement for your business and we will create a tailored proposal for you.
You can also call us or chat with us on this page if you have any questions.  It will be our pleasure to help you out and answer all of your questions!
Our Experts are Here to Help!
Connect with one of our Dental Marketing Experts today and discuss your requirements. Free advice.

Want to connect with a
marketing expert? Dial-in